Conquer Today's Challenges. Take Control Now.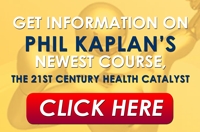 Welcome! You have made the wise decision to explore Phil Kaplan's Be Better Academy. The fact that you're here shows that you want to improve, to realize your full potential as a personal trainer, and to go beyond Great by constantly seeking Better.
BRAND NEW HEALTH CATALYST COURSE! Click for Details!
Be Better Academy was developed as an 8-month curriculum unmatched in its scientific foundation, unprecedented in its credibility, and most of all, unparalleled in the power it delivers to personal trainers. Although it now incorporates a number of course offerings, the Be Better Academy course still lies as its foundation.
It was formulated over ten years, with a single purpose in mind.
The Be Better Project was created to prove that there is a specific strategy that allows any business founded upon the ideals of bettering the lives of others to prosper. Passion, communication, longevity, prosperity, influence and achievement are all elements of this strategy… but unlike any other self-improvement program, the Be Better Project was designed by a hugely successful personal trainer, specifically for personal trainers. It was refined by combining education with implementation. It was then proven by a core group of personal trainers from around the continent, with every willing participant showing stellar growth.
The Be Better Project came with a registration fee of $2600.00. But now, for the first time ever, the entire curriculum is available online for only $67.50 per month over an 8-month period.
Here's a small sampling of what you'll learn:
How to identify and maximize unique traits that may have remained unrecognized until now
How to eliminate any threat of non-pays or no-shows
How to command a level of respect on a pedestal previously reserved for medical professionals
How to blow away the self-imposed ceiling on personal trainer earnings
How to build a team gradually, deliberately and profitably
How to ensure that your demand continues to grow as your reach increases exponentially
How to balance personal life, personal fitness, and your career
How to build a business that has sale-appeal
How to separate who you are from what you do
How to ensure your passion grows without ever nearing burn-out
Be Better Academy delivers two audio programs per month: two invaluable lessons that will get you to think differently, act differently, and make simple changes in your outlook and actions, so those goals which may be better categorized as dreams begin to manifest. You'll come to understand the realities behind the term Effortless Prosperity. Each month you'll also receive downloads including texts and exercises, with each segment building upon the previous month's lessons, to ensure momentous growth.
Here's what you'll throw away… forever:

Conventional goal-setting exercises that leave you frustrated and unfulfilled
Tired client relationships that become a chore in order to generate income
A ceiling on your potential—and your income
A distaste for "selling"

They will be replaced by:

A simple three-part business operation system that leaves you in control of ongoing growth
The skill to generate new business without pause or hesitation
Thrilling interaction with clients and colleagues, pushing you forward with unprecedented momentum
The ability to implement proven revenue streams without risk
The power to influence that eliminates any sense of having to "sell"
You'll receive an instant download preparing you for the program.
Get started for a one-time administrative/enrollment fee of just $8.99 plus your Month 1 fee of only $67.50. Prosperity awaits.